Manual Motor Starter – Explosion Proof and Compact!
Introducing a New Explosion Proof Manual Motor Starter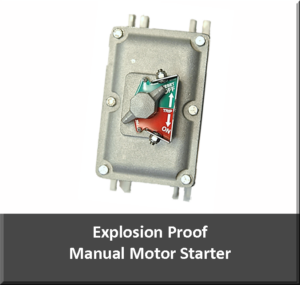 Finally an explosion proof manual motor starter with a circuit breaker and disconnect in one box. Turnable handle operates with gloved hands meaning no more broken buttons. Resets without opening. Compact size is ideal when space is limited.
Can be used in 1Hp to 25Hp motor applications.
Enclosure Approvals:
Class I, Div. 1 & 2, Groups C & D
Class II, Div. 1 & 2, Groups E, F & G
Class III
UL Standard 50, 698, 1203
CSA Certified
Local Logout/Tagout
Features:
Combined functions of current limiting short circuit protection
Class 10 thermal overload protection
Switching and signaling for motors up to 30HP
UL/CSA listed, provides motor overload protection as well as protection from single phase conditions
"At Motor" Disconnect when applied with regard to maximum current limiting and breaking capacity
Type E Self-Protected Manual Starter
Individual and Multi-Motor Starter
Easy to read data labels with performance rating on both sides of KT7
Large scale for precise overload setting
Test trip feature assures operation of trip mechanism
Open terminals save wiring time
Finger safe terminals and terminal screws
Short-circuit indicator provides differentiation between short-circuit trip and overload trip
Ergonomic handle provides clear status indication of ON-OFF-Tripped state