ATEX Motors – A European Directive
This European Directive, mandatory since July 2003, provides a classification for electric motors in areas containing explosive atmospheres. More than product specification, the directive gives special attention to the production process including design and sale. Certification for the system is provided along with the product certification. ATEX Motor Directive 94/9/EC also classifies equipment operating in explosive atmospheres into groups and categories following the same classification basis used by CENELEC.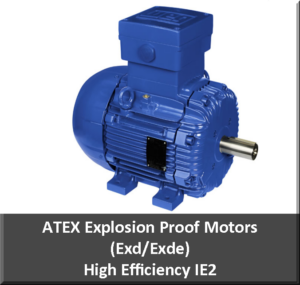 ATEX Explosion Proof Motors – High Efficiency IE2 & Premium Efficient IE3
Three-phase, multivoltage, IP55, TEFC
Output: 0.37 up to 315 kW
Frames: 90S up to 355M/L
Voltage: 220-240/380-415V (up to 100L) / 380-415/660V (from 112M and up)
Class "F" insulation (T=80K)
Continuous duty: S1, Design N
Ambient temperature: 40°C, at 1000 m.a.s.l.
Squirrel cage rotor/aluminum die cast
Lip Seal on both endshields
Dimensions according to IEC 60072
Performance characteristics according to IEC 60034-30
A classification in Zone 1 means that the motor is also suitable to operate also in Zone 2.   The same applies to Groups and Categories: Ex d and Ex de motors are suitable to operate also in Group IIA and Category 3.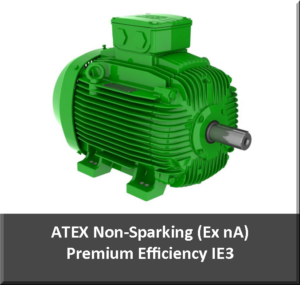 ATEX Non-Sparking (Ex nA) Premium Efficiency IE3
Three-phase, multivoltage, IP55, TEFC
Output: 0.12 up to 315 kW
Frames: 63 up to 355M/L
Voltage: 220-400/380-415V (up to 100L) 380-415/660V (from 112M and above)
Mounting: B3T
Class "F" insulation (ΔT=80K)
WISE® (WEG Insulation System Evolution) insulation system – Suitable for inverter duty applications*
Continuous duty: S1, Design N
Ambient temperature: 40°C, at 1000 m.a.s.l.
Squirrel cage rotor / Aluminum die cast
V'Ring seal