841-2009 – IEEE Standard for Petroleum and Chemical Industry – Premium Efficiency, Severe Duty, Totally Enclosed Fan-Cooled (TEFC), Squirrel Cage Induction Motors – Up to and Including 370 kW (500 hp)
This standard applies to premium efficiency, totally enclosed fan-cooled (TEFC), horizontal and vertical, single-speed, squirrel cage polyphase induction motors, up to and including 370 kW (500 hp), and 4000 volts in National Electrical Manufacturers Association (NEMA) frame sizes 143T and larger, for petroleum, chemical, and other severe duty applications (commonly referred to as premium efficiency severe duty motors). Excluded from the scope of this standard are motors with sleeve bearings and additional specific features required for explosion-proof motors.
Courtesy of: Standards.IEEE.org
WEG's W22 NEMA Premium Motors meet or exceed all NEMA Premium® requirements for IEEE motors' energy efficiency. These WEG IEEE 841 W22 NEMA Premium Efficiency Mill and Chemical Duty Motors are especially suited for Pulp and Paper Mills, Petrochemical, Steel Mills and applications requiring severe duty, long life motors.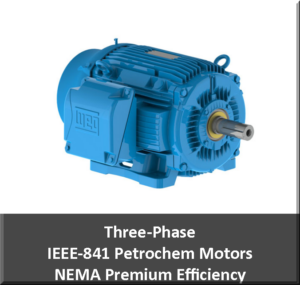 Three Phase IEEE-841 Petrochem Motors NEMA Premium Effeciency
Three-phase, 2, 4, 6 or 8 pole, 60Hz
Voltage: 460 or 575V (3 wire)
Totally Enclosed Fan Cooled (TEFC)
Degree of Protection: IP55
Class "F" Insulation ("B" Temperature Rise at Full Load)
104°F (40ºC) Ambient Temperature
Service Factor:
– 1.25 – up to 100 HP
– 1.15 – from 125HP and up
Squirrel Cage Rotor / Aluminum Die Cast
143T up to 586/7 Cast Iron Frame
All Cast Iron Reinforced Construction:
– Frame, Endshields, Terminal Box and Fan Cover
F1 Mounting